Saraswathi Navaratri
2019 February 5-14
3 celebrated temples


There are 4 Navaratris every year (9 nights of Mother Divine). Activation of Shakthi or Nature's organizing power is at the heart of these festivals. Each Navaratri has its own theme. This Navaratri celebrates Maha Saraswathi whose Grand Day (Vasant Panchami) happens on 9 February

Life purpose Career Knowledge Artistic endeavor -Saraswathi - Source Course and Goal.

Saraswathi is all pervading knowledge (Gyana Akasha). Her grand festival for 2019 runs February 5-14 inclusive. She governs all aspects of knowledge: pure and applied. She is pure knowledge of Self realization. She rules creativity, inspiration, intelligence, thinking, speech, writing, music, arts, all aspects of teaching, communicating, learning and creative endeavor and expression. Saraswathi is the supreme muse. Traditionally, she is invoked by those seeking fame - inspiration and success in their artistic or creative endeavors. Education, research and sciences fall under her sway. Life purpose, dharma, vocation, career, knowledge - if you desire progress, Saraswathi is the source, course and goal.
Purify, revitalize and realign your life - realize your highest goals and aspirations. Navaratri or 9 nights of Mother Divine is the time for cleansing and growth. During this window, the wholeness of life rises to purge the lower, fragmented, imperfect values of natural law. In Vedic mythology, it is depicted as the time when Shakthi (quintessential universal power), champion of the gods, is victorious over demons (lower, fragmented forces of nature). It is a time for light to triumph over darkness. The river floods and stagnant pools are swept away. It's an opportunity to purify, revitalize and realign our lives: to get back on track - to realize our goals and aspirations.


When you participate in Saraswathi Navaratri yagya festival.... Artistic expression, creative endeavor, career, vocation, dharma and life purpose - move forward. Your life is infused with Shakthi or nature's organizing power. This generates a powerful momentum for progress & fulfillment on all levels of life: inner and outer - happiness, fulfillment, material affluence, harmonious relationships and career success. This wave of wholeness rolls through your life, your family, your community and the world nourishing all beings on every level of creation.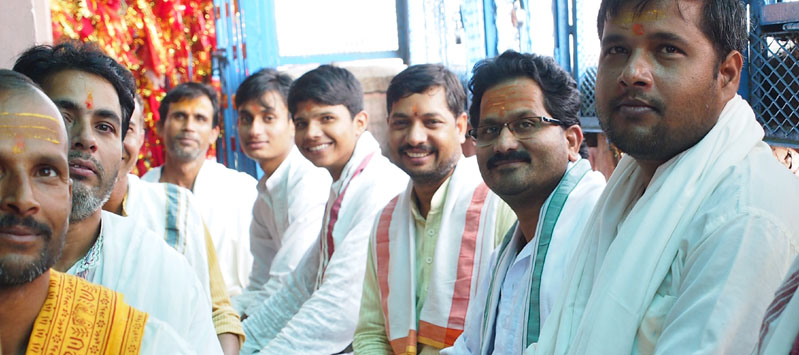 In front of Inner Sanctum, Mansa Devi Durga Temple, Haridwar - Maha Navaratri October 2016
Harnessing nature's momentum through yagya
Navaratri is known as 'Durga Puja': 9 nights invoking or celebrating Durga: Divine Mother -the wholeness or collectedness of God's feminine aspects.
Yagyas
are traditionally performed during this time to harness the momentum of this highly auspicious window of opportunity. Navaratri or Durga puja yagyas serve to direct the lively flow of nature's intelligence and organizing power into our daily lives to safeguard and enhance our progress and evolution and to achieve specific goals.
Testimonials
Sharadaa Maihar Sarawathi Temple Grounds - Saraswathi Navaratri February 2016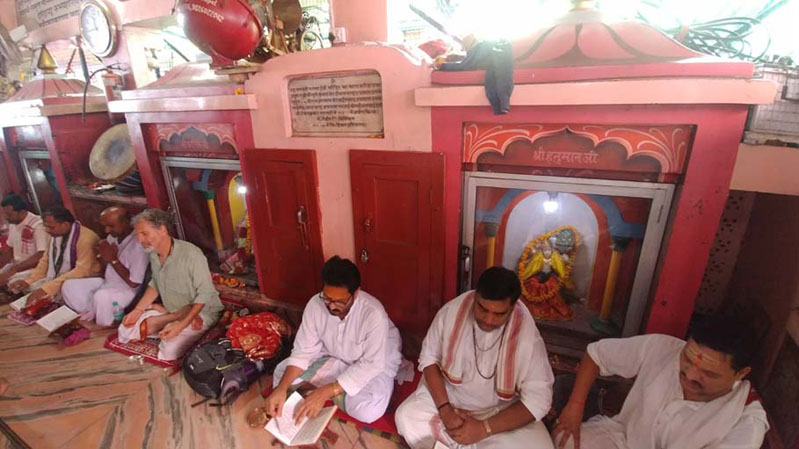 Mansa Devi Haridwar - Maha Navaratri 2017 October


Background on performing yagyas in celebrated temples
Shardaa Maihar Saraswathi Temple, Madhya Pradesh
Testimonials
Level 1 Navaratri Program - $286

- Durga Puja: invocation of Kali, Laksmi & Saraswathi
- followed by 1 recitation of Durga Saptashati (700 mantras invoking Mother Divine) each day
- Total 9 recitations of Durga Saptashati performed by Pandits in 4 celebrated temples over 9 days

Level 2 Navaratri Program - $574

- Durga Puja: invocation of Kali, Laksmi & Saraswathi
- followed by 2 recitations of Durga Saptashati (700 mantras invoking Mother Divine) each day
- Total 18 recitations of Durga Saptashati performed by Pandits in 4 celebrated temples over 9 days

Level 3 Navaratri Program - $862

- Durga Puja: invocation of Kali, Laksmi & Saraswathi
- followed by 3 recitations of Durga Saptashati (700 mantras invoking Mother Divine) each day
- Total 27 recitations of Durga Saptashati performed by Pandits in 4 celebrated temples over 9 days


Level 4 Navaratri Program - $1152
Level 5 Navaratri Program - $1449
Level 6 Navaratri Program - $1728
Level 7 Navaratri Program - $2016
Level 8 Navaratri Program - $2304
Level 9 Navaratri Program - $2592