Special Kali Navaratri July 3-10
Performed at Kali Math Temple Himalayas


Due to the severity of current malefic transits involving Saturn Rahu Ketu March-October 2019 we're running a special Protective/Remedial Program for Guru Purnimah Navaratri at Kali Math Temple Himalayas. Program runs July 3-10. Along with Kali Math, program also runs at Durgamba Temple in Karnataka and Neelambika Temple in Maharashtra. 40 Pandits performing...

738 recitations of Durga Saptashati (core of Navaratri yagya) in 3 celebrated Temples
8000 Recitations of Kali Kavacham - Armor and protection of Kali Maa: Performed at Kali Math Temple Himalayas
72000 Navarna Japa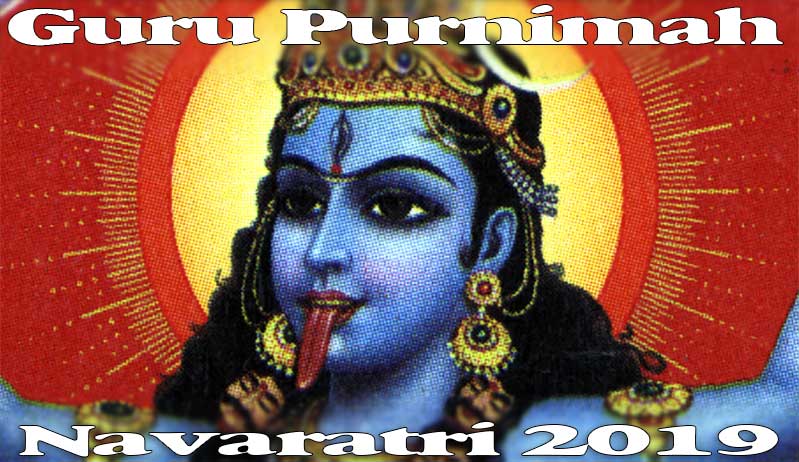 Kali Kavacham (Armor/protection of Mother Kali)
Effective remedy for problems due to Saturn/Shani Rahu Ketu


There are 3 primary aspects or forms of Divine Mother: Maha Laksmi [Abundance Success], Maha Saraswathi [Arts, Knowledge, Dharma] & Maha Kali [Purification Protection]. Wife of Lord Shiva [the absolute], Kali is the wholeness or totality of natural law made lively.

Under the loving protection of Mother Kali, negative influences from malefic planets (Saturn Rahu Ketu) are neutralized.

Kali is invoked first in the durga puja; she is the primordial substrate in which all of creation finds its resting place. She embodies the wholeness or totality of Divine Mother. She is also known as Durga - another name for the wholeness of mother divine. She is associated with Parvathi or Uma: Lord Shiva's consort [wife] and mother of the universe. Kali is worshipped or invoked by those seeking enlightenment or liberation [moksha] as well as by those desiring advancement in the material world. When wholeness is lively, individual elements are stronger and more effective. When Kali is lively, Laksmi and Saraswathi are greater and more propitious [able to bestow desired benefits].

She is portrayed as wearing a garland of heads. This illustrates here role as bestower of liberation or enlightenment by destroying the ego. The head contains the sense organs and is thereby synonymous with limited self concept or ego. By severing the head with the sword of self knowledge Kali liberates us. Awareness expands and is freed from boundaries and self imposed limitations. Her darshan or mode of influence is experienced in the heart and fullness of awareness. It's a direct experience. She touches us deep inside at the most fundamental level of awareness; She is experiential not conceptual. She is also depicted as standing on or over her consort the sleeping Shiva [the absolute]. She represents the ground state or absolute made lively. In contrast with sleeping Shiva, Kali arrests the mind. She is proactive and forcibly takes the mind to the absolute. We feel her at the core at of our being.


Kali Math is an ancient monestary: a place of learning & experience established by Adhi Shankara - one of India's most celebrated and illustrious saints. A perfected yogi, he is widely regarded as an incarnation of Lord Shiva. He founded the Shankaracharya Tradition (Swami Brahmananda's lineage). His experience of Goddess Kali was so clear and profound here, he established Kali Math or Monastery (center of learning and experience). Sidha Peeth and Maha Peeth: here one can perfect practice and experience of sidhis (Sanyama & realization of Patanjali's yoga sutras). It's said Swami Ramakrisna did saadhana (spiritual practice) here. (Swami Ramakrisna was a famous mystic/saint of 19th century India). Due to the lively & profound presence of Kali, yagyas performed here deliver extraordinary benefits.



Performing yagyas in celebrated temples
Maximum benefit from specialty yagyas performed in celebrated temples
Testimonials
There are 4 Navaratris every year (9 nights of Divine Mother). Activation of Shakti or Nature's organizing power is the heart of these festivals.

Each Navaratri also has its own theme. The upcoming Navaratri July 3-10 culminates on the full moon of Guru Purnimah (Full moon of the Guru) on July 16 [India]. Our Guru or spiritual teacher connects us with the divine: ultimate reality. Guru is the conduit through which God's blessings flow into our lives. Guru Purnimah is that day of the year when the Guru's influence is most lively and accessible. It is traditional to celebrate and pay homage to our Guru on this day.

The upcoming Navaratri, culminating on Guru Purnima, is an opportunity to cultivate the protection of Kali Maa and the influence of Guru in our lives: Enlightenment Liberation Salvation, Happiness, Wisdom, Knowledge, Divine love, Devotion, Loyalty, and life lived in accord with natural law. Living our dharma.



When you participate in Guru Purnimah Navaratri your life is infused with shakti or nature's organizing power. You receive blessings of Kali Maa and Guru Dev. Your life is aligned with the invincible evolutionary flow of nature's intelligence. You are also protected from negative influences from malefic planets

This generates a powerful momentum for progress and fulfillment on all levels: inner and outer - happiness, fulfillment, material affluence, harmonious relationships & success in career & activity.

This wave of wholeness rolls through your life, your family, your relationships, your community & the world nourishing all beings at every level of creation.

Jai Guru Dev
Navaratri or 9 nights of Mother Divine is the time of cleansing, purification and evolution throughout the whole of nature. During this window, the wholeness of life rises to purge the lower, fragmented, imperfect values of natural law. In Purana, it is depicted as the time when Shakthi (quintessential universal power), champion of the gods, is victorious over demons (lower, fragmented forces of nature). It is a time for light to triumph over darkness. The river floods and stagnant pools are washed away. It's an opportunity to purify, revitalize and realign our lives: to get back on track - to realize your goals and aspirations







Level 1 Navaratri Program - $286

- Durga Puja: invocation of Kali, Laksmi & Saraswathi
- Morning program = 1 recitation of Durga Saptashati (700 mantras invoking Mother Divine)
- Total 9 recitations over 9 days
- Evening program = recitation of Kali Kavacham (Armor/Protection of Kali Maa)
- Performed by Pandits in 3 celebrated temples each day for 9 consecutive days exclusively on your behalf

Level 2 Navaratri Program - $574

- Durga Puja: invocation of Kali, Laksmi & Saraswathi
- Morning program = 2 recitation of Durga Saptashati (700 mantras invoking Mother Divine)
- Total 18 recitations over 9 days
- Evening program = recitation of Kali Kavacham (Armor/Protection of Kali Maa)
- Performed by Pandits in 3 celebrated temples each day for 9 consecutive days exclusively on your behalf

Level 3 Navaratri Program - $862

- Durga Puja: invocation of Kali, Laksmi & Saraswathi
- Morning program = 3 recitations of Durga Saptashati (700 mantras invoking Mother Divine)
- Total 27 recitations over 9 days
- Evening program = recitation of Kali Kavacham (Armor/Protection of Kali Maa)
- Performed by Pandits in 3 celebrated temples each day for 9 consecutive days exclusively on your behalf



Level 4 Navaratri Program - $1152
Level 5 Navaratri Program - $1449
Level 6 Navaratri Program - $1728
Level 7 Navaratri Program - $2016
Level 8 Navaratri Program - $2304
Level 9 Navaratri Program - $2592

Invincibility Affluence Progress and Support of Nature
Enjoy the benefits of Navaratri 365 days a year for as little as $144 a month
Yearly Navaratri Program