Magha Navaratri
2020 January 25 - February 3
1000 Recitations of Durga Saptashati
5 celebrated temples

There are 4 Navaratris every year (9 nights of Mother Divine). Enlivening Shakti or Nature's organizing power is at the heart of these festivals. Each Navaratri has its own theme. Magha Navaratri celebrates Maha Saraswathi whose Grand Day (Vasant Panchami) happens on January 29 [India] * Durga Saptashati (700 Mantras invoking Mother Divine) is the core text and heart of Navaratri Yagya * Magha refers to the Lunar Month

Life purpose Career Knowledge Artistic endeavor -Saraswathi - Source Course and Goal.

Saraswathi is all pervading knowledge (Gyana Akasha). Her grand festival for 2020 runs January 25 - February 3 inclusive. She governs all aspects of knowledge: pure and applied. She is pure knowledge of Self realization. She is also creativity, inspiration, intelligence, thinking, speech, writing, music, arts, all aspects of teaching, communicating, learning and creative endeavor and expression. Saraswathi is the Muse. Traditionally, she is invoked by those seeking fame inspiration and success in their artistic or creative endeavors. Education, research and sciences fall under her sway. Life purpose, dharma, vocation, career, knowledge - if you desire progress, Saraswathi is the source, course and goal.


Kaamakhya local Pandit boys perform our Navaratri Yagya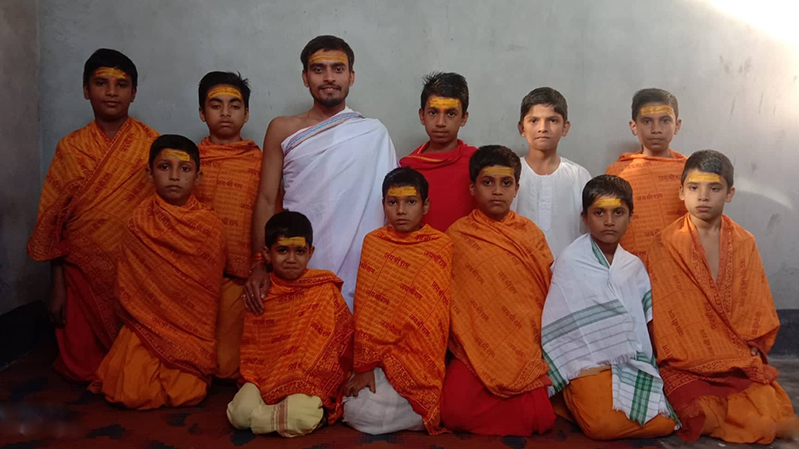 We are delighted to welcome 12 new pandits to our Navaratri family. These children of Assam are born from the same soil as Kaamakhya Temple. With guidance and participation of Acharya/Teacher Lekhnath Ghimire, the young Brahmins are clear innocent conduits through which Kameshwari Devi's sublime reality is enlivened in our lives in all its purity and potency.
More detail
Kaamakhya temple Guwahati, Assam is famed throughout India as the birth place of Kaama Deva, God of Love. Kaameshwari Devi, patron Goddess of the temple, is held to be an aspect of Kali. The temple is renowned for bestowing the gifts of bhukti (pleasure) and mukti (liberation/enlightenment). Out of 51 Shakthi Peeths (principle temples of Divine Mother), Kaamakhya is considered one of the greatest, most powerful & most illustrious. For thousands of years, it has been a mecca to those desirous of attaining perfection in their spiritual practice (saadhana) and in their yagyas.
More detail
Local Kalimath Pandit performs our Navaratri Yagya
In keeping with the principle of Pandits born of local families, Dinesh Chandra Gaur from Kalimath will also be joining our Navaratri Family. He will chant Durga Saptashati inside Kalimath's Inner Sanctum during upcoming Navaratri yagya festival
More detail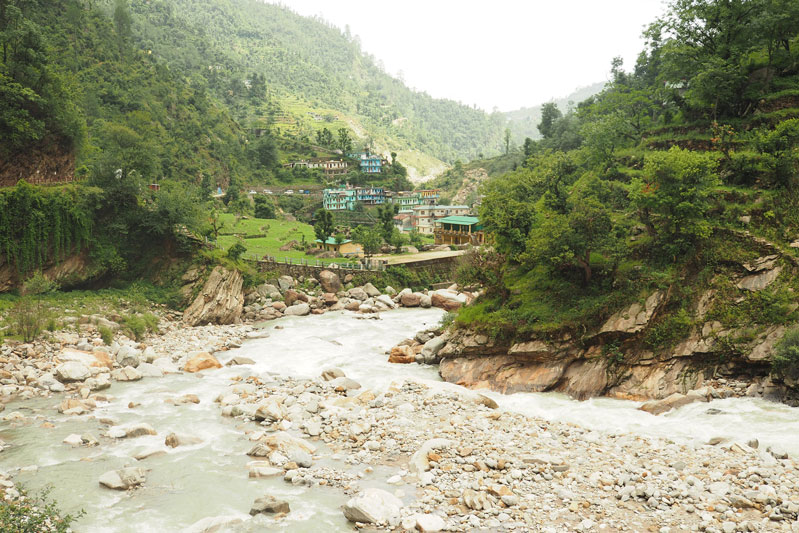 Purify, revitalize and realign your life - realize your highest goals and aspirations. Navaratri or 9 nights of Mother Divine is the time for cleansing and growth. During this window, the wholeness of life rises to purge the lower, fragmented, imperfect values of natural law. In Vedic mythology, it is depicted as the time when Shakthi (quintessential universal power), champion of the gods, is victorious over demons (lower, fragmented forces of nature). It is a time for light to triumph over darkness. The river floods and stagnant pools are swept away. It's an opportunity to purify, revitalize and realign our lives: to get back on track - to realize our goals and aspirations.



When you participate in Saraswathi Navaratri yagya festival.... Artistic expression, creative endeavor, career, vocation, dharma and life purpose - all are enlivened and progressed. Your life is infused with Shakti or nature's organizing power. This generates a powerful momentum for progress & fulfillment on all levels of life: inner and outer - happiness, fulfillment, material affluence, harmonious relationships and career success. This wave of wholeness rolls through your life, your family, your community and the world nourishing all beings on every level of creation.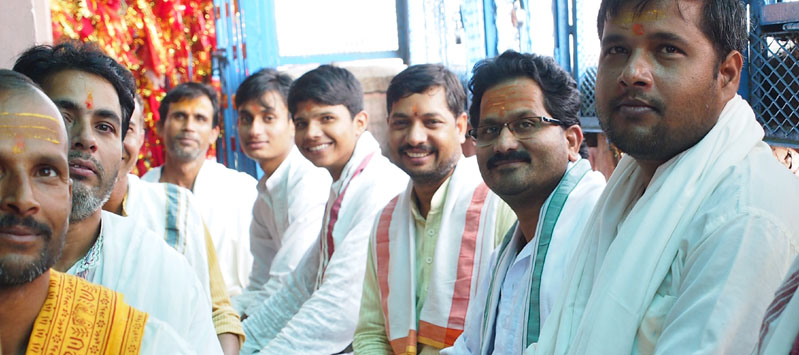 In front of Inner Sanctum, Mansa Devi Durga Temple, Haridwar - Maha Navaratri October 2016
Harnessing nature's momentum through yagya
Navaratri is known as 'Durga Puja': 9 nights invoking or celebrating Durga: Divine Mother -the wholeness or collectedness of God's feminine aspects.
Yagyas
are traditionally performed during this time to harness the momentum of this highly auspicious window of opportunity. Navaratri or Durga puja yagyas serve to direct the lively flow of nature's intelligence and organizing power into our daily lives to safeguard and enhance our progress and evolution and to achieve specific goals.
Background on performing yagyas in celebrated temples
Testimonials
Level 1 Navaratri Program - $USD 144 - EUROS 126 - $AUD 225

- Durga Puja: invocation of Kali, Laksmi & Saraswathi
- followed by 1 recitation of Durga Saptashati (700 mantras invoking Mother Divine) each day
- Total 9 recitations of Durga Saptashati performed by Pandits in 5 celebrated temples over 9 days

Level 2 Navaratri Program - $USD 279 - EUROS 243 - $AUD 444

- Durga Puja: invocation of Kali, Laksmi & Saraswathi
- followed by 2 recitations of Durga Saptashati (700 mantras invoking Mother Divine) each day
- Total 18 recitations of Durga Saptashati performed by Pandits in 5 celebrated temples over 9 days

Level 3 Navaratri Program - $USD 423 - EUROS 369 - $AUD 655

- Durga Puja: invocation of Kali, Laksmi & Saraswathi
- followed by 3 recitations of Durga Saptashati (700 mantras invoking Mother Divine) each day
- Total 27 recitations of Durga Saptashati performed by Pandits in 5 celebrated temples over 9 days


Level 4 Navaratri Program - $USD 556 - EUROS 475 - $AUD 0855
Level 5 Navaratri Program - $USD 684 - EUROS 598 - $AUD 1071
Level 6 Navaratri Program - $USD 819 - EUROS 711 - $AUD 1285
Level 7 Navaratri Program - $USD 954 - EUROS 838 - $AUD 1494