2020 Vasant (Spring) Navaratri 25 March - 2 April
1000 Recitations of Durga Saptashati
5 celebrated temples
2020 Vasant Navaratri running 25 March - 2 April.. marks the beginning of Northern Hemisphere Spring + Southern Hemisphere Autumn. Out of 4 navaratri festivals occurring each year, Vasant Navaratri is second only to Grand or Maha Navaratri (October) in its potency, efficacy and grandure.


When you participate in Vasant Navaratri yagya festival your life is infused with Shakti or nature's organizing power. Sattwa, the quality of wholeness, translucence/clarity of mind, preservation & protection is activated. Your life aligns with the invincible evolutionary flow of nature's intelligence. It generates a powerful momentum for progress & fulfillment on all levels, inner and outer: wholeness, peace, clarity and translucence, happiness, fulfillment, material affluence, harmonious relationships and career success. Waves of wholeness roll through your life, your family, your community and the world nourishing all beings at every level of creation.



Vasant Navaratri culminates in Rama Navami (appearance day of Lord Rama) on 2 April.. Rama, Hero of literary epic Ramayana, is an incarnation of Maha Vishnu. He took birth to vanquish the demon Ravana and restore dharma or life lived in accord with natural law on earth. His life exemplified the most noble principles ethics and behavior lived in the day to day. Rama embodies the principle of Sattwa: the quality of wholeness, translucence/clarity of mind, preservation & protection.

Yagyas for psychological health and well being... On the level of the planets, Rama (Vishnu) is Adi Devata or primary aspect of universal intelligence governing Mercury (Communication Understanding Skill set Career) and Jupiter (Wisdom Family relations Love/devotion Dharma). So Vasant Navaratri is an ideal time to run Mercury & Jupiter yagyas. These yagyas will deliver optimal benefits at this time. Deep rooted problems in the areas of psychological health and well being,family life and career - problems that otherwise won't shift - can successfully resolve. More detail

Kaamakhya local Pandits perform our Navaratri Yagya


We are delighted to welcome 12 new pandits to our Navaratri family. These sons of Assam are born from the same soil as Kaamakhya Temple. With guidance and participation of Acharya/Teacher Lekhnath Ghimire, the young Brahmins are clear conduits through which Kameshwari Devi's sublime reality is enlivened in our lives in its purity and potency.
More detail
Kaamakhya temple Guwahati, Assam is famed throughout India as the birth place of Kaama Deva, God of Love. Kaameshwari Devi, patron Goddess of the temple, is held to be an aspect of Kali. The temple is renowned for bestowing the gifts of bhukti (pleasure) and mukti (liberation/enlightenment). Out of 51 Shakthi Peeths (principle temples of Divine Mother), Kaamakhya is considered one of the greatest, most powerful & most illustrious. For thousands of years, it has been a mecca to those desirous of attaining perfection in their spiritual practice (saadhana) and in their yagyas.
More detail
Local Kalimath Pandit performs our Navaratri Yagya
In keeping with the principle of Pandits born of local families, Dinesh Chandra Gaur from Kalimath will also be joining our Navaratri Family. He will chant Durga Saptashati inside Kalimath's Inner Sanctum during upcoming Navaratri yagya festival
More detail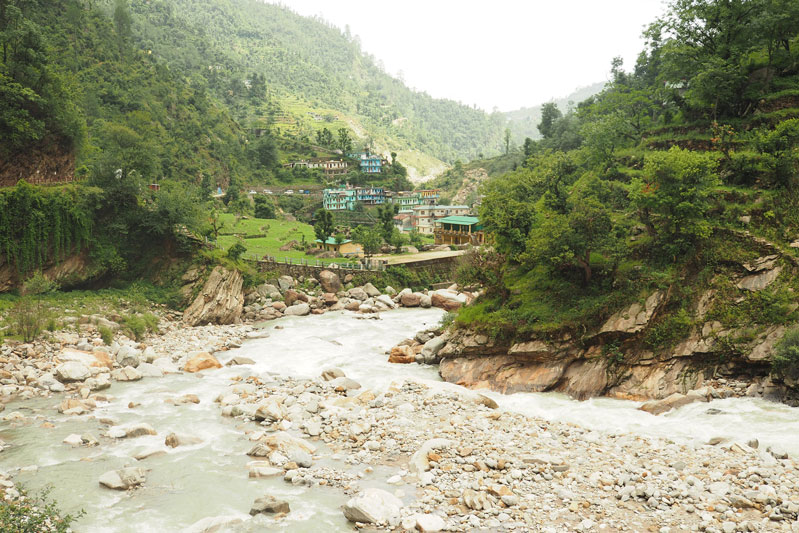 Purify, revitalize and realign your life - realize your highest goals and aspirations. Navaratri or 9 nights of Mother Divine is the time for cleansing and growth. During this window, the wholeness of life rises to purge the lower, fragmented, imperfect values of natural law. In Vedic mythology, it is depicted as the time when Shakthi (quintessential universal power), champion of the gods, is victorious over demons (lower, fragmented forces of nature). It is a time for light to triumph over darkness. The river floods and stagnant pools are swept away. It's an opportunity to purify, revitalize and realign our lives: to get back on track - to realize our goals and aspirations.


Background on performing yagyas in celebrated temples
Testimonials
Level 1 Navaratri Program - $USD 144 - EUROS 126 - $AUD 225

- Durga Puja: invocation of Kali, Laksmi & Saraswathi
- followed by 1 recitation of Durga Saptashati (700 mantras invoking Mother Divine) each day
- Total 9 recitations of Durga Saptashati performed by Pandits in 5 celebrated temples over 9 days

Level 2 Navaratri Program - $USD 279 - EUROS 243 - $AUD 444

- Durga Puja: invocation of Kali, Laksmi & Saraswathi
- followed by 2 recitations of Durga Saptashati (700 mantras invoking Mother Divine) each day
- Total 18 recitations of Durga Saptashati performed by Pandits in 5 celebrated temples over 9 days

Level 3 Navaratri Program - $USD 423 - EUROS 369 - $AUD 655

- Durga Puja: invocation of Kali, Laksmi & Saraswathi
- followed by 3 recitations of Durga Saptashati (700 mantras invoking Mother Divine) each day
- Total 27 recitations of Durga Saptashati performed by Pandits in 5 celebrated temples over 9 days


Level 4 Navaratri Program - $USD 556 - EUROS 475 - $AUD 0855
Level 5 Navaratri Program - $USD 684 - EUROS 598 - $AUD 1071
Level 6 Navaratri Program - $USD 819 - EUROS 711 - $AUD 1285
Level 7 Navaratri Program - $USD 954 - EUROS 838 - $AUD 1494